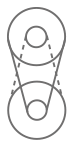 CVT Pushbelt, over 40 years of CVT experience.
CVT Pushbelt was founded by Coen van Beek in 2011. And is based on over 40 years of CVT experience.
We are very proud to be official distributors of Bosch OEM CVT Pushbelts which are produced in Tilburg, the Netherlands. Since the introduction of the CVT Transmission in 1988, over 55 million CVT Pushbelts have been manufactured.
The goal of CVT Pushbelt is to support the aftermarket with OEM CVT parts and knowledge. We also arrange seminars and if possible we offer advice by email or phone.
CVT Pushbelt strives to extend the parts program towards a complete service package for CVT parts as quickly as possible.
Our team:
Barbera van Rooij , Managing Director
Sales, administration, logistics etc.
Coen van Beek, Senior Engineer
To support the aftermarket, we develop and produce special tools for repair and overhaul of CVT- and DSG transmissions in cooperation with Reman Tools BV. These tools are based on years of practical experience and developed from the perspective of the user/mechanic, which guarantees quality and efficiency. During the tool development process, we also pay special attention to the time savings that good tools achieve.