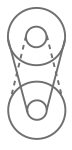 CVT Pushbelts, applications, toolkits and more!
CVT Pushbelt is based in the Netherlands and specializes in Pushbelts and all resulting applications.
Pushbelts are used in Continuous Variable Transmission (CVT) for motor vehicles. The popularity of CVT Transmissions is increasing tremendously in the automotive industry. A growing number of car manufacturers use this application to reduce fuel consumption and reach the requirements of environmental legislation.
We are very proud to have the opportunity to serve the aftermarket of automatic transmissions with this OEM product, manufactured by Bosch Transmission Technology Netherlands
If you are interested in more detailed information, please contact us via the contact form, e-mail or by phone.
Do you require more information?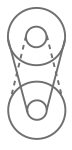 Stay up to date with CVT Pushbelt
Register for our newsletter now and stay informed.
[contact-form-7 id="2009″ title="Contactformulier 1″]
CVT Pushbelt BV is official & professional partner of Reman Tools BV. Reman Tools was founded to support the aftermarket with special tools for the repair of CVT and DSG transmissions.